Fine finalists enjoy a day in the sun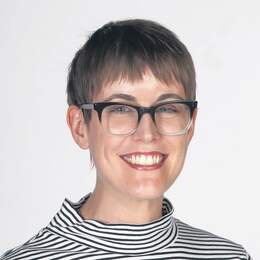 Our talented Young Travel Writer finalists enjoy a lesson in perspective.
"You're so tiny," comes the yell from atop the cherry-picker as it is slowly raised towards the bright-blue sky.
"So are you," someone calls back from ground level.
The calls come from two of the Young Travel Writer finalists who have joined us at Kings Park and Botanic Gardens for a day of activities including a tour with senior curator Grady Brand, and this chance to hover above the park's 750-year-old boab.
The cherry-picker ride offers an unexpected angle on this ancient tree, which was transported more than 3000km from near the Kimberley town of Warmun eight years ago. And it illustrates one of the concepts the finalists have been learning about today: the search for a distinctive point of view, both in writing and photography.
Now in its eighth year, our Young Travel Writer competition called for students in years 7-12 to submit a travel story and accompanying photographs. Ten finalists were chosen, and eight joined us at Kings Park: Aaron Weidenbaum and Rachel Denham-White of Shenton College, Daniel Wu of Christ Church Grammar School, Grace Hendry of Alta-1 College Mullaloo, Kate Loveday and Srija Datta of Applecross Senior High School, Max Campbell-Clause of Perth Waldorf School and Nakita Harvey of the Great Southern Institute of Technology, with Kate Bright of Shenton College and Anda Pforr of Rossmoyne Senior High School unable to attend the finalists' day.
And by the time our finalists are taking turns in the cherry-picker alongside Kings Park arboriculture curator Jeremy Thomas, the morning's program is already well advanced.

There's been a welcome from Travel Editor Stephen Scourfield, and a session with Canon's Robert Tomic to familiarise the finalists with the new Canon PowerShot SX60 HS camera they've each received from Canon and Camera Electronic.
After morning tea, there was a presentation on travel writing from me, before Grady gave the students an insight into the work that goes into caring for Kings Park's 400ha of gardens, parkland and bushland. And then it was time for the boab, the cherry-picker and the lesson in perspective.
The morning ends with Stephen and Nerreda Hillier, representing Australia's North West tourism, presenting the young writers with their finalist certificates.
And then the two winners are announced: Nakita Harvey and Max Campbell-Clause, who will travel with Stephen, Travel assistant Jan Bromilow and Australia's North West chief executive Glen Chidlow to the East Kimberley on assignment next month.
We'll bring you their stories and photographs from that adventure, and in the meantime, you can see all of the 10 finalists' entries at sevenwesttravelclub.com.au/ stories/young-travel-writer.
Categories